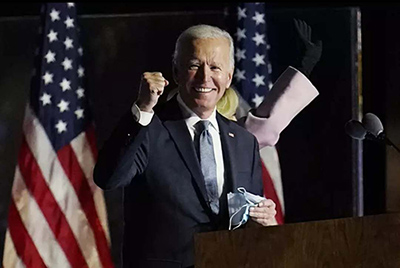 Democratic presidential candidate Biden won the 2020 U.S. presidential election in Pennsylvania and Nevada with 290 electoral votes, more than the 270 needed to win the election, according to multiple media reports on November 7.
Although the New York Times, the CNN and other media did not attribute Arizona's 11 electoral votes to Biden, according to his statistics, Biden still won over the threshold of 270 votes.


Biden tweeted: Americans, I am honored that you have chosen me to lead our great nation.
Hillary, Clinton praised Biden for winning the presidential election, "voters have said they have chosen Biden and Harriss as our next president and vice president, a ticket to history, a repudiation of Donald Trump and a new chapter for America. Thank you to all who have said so. Keep moving. Work Together."
Former Presidents Obama and Clinton congratulated them, saying: This is a victory for democracy.
British Prime Minister Andrew Johnson, Canadian Prime Minister Trudo, German Chancellor Merkl, French President Maqueron, Spanish Prime Minister Sánchez, European Union Council President Michelle and other international dignitaries congratulated Joe, Biden was elected.