Joe Biden became the new president of the United States, and Kamala Harris became the first female vice president. The two men were sworn in at noon on Wednesday. The inauguration ceremony has been scaled back due to the new crown outbreak. Instead of a crowd of one hundred thousand that would have stretched from the Capitol to the National Mall, a sea of 200,000 American, state and territory flags was created, to represent those who are unable to attend the ceremony. Even before he took office, Biden had spoken of the need for unity in facing the challenges posed by the epidemic. The outbreak has killed 400,000 people in the United States and caused economic hardship for many.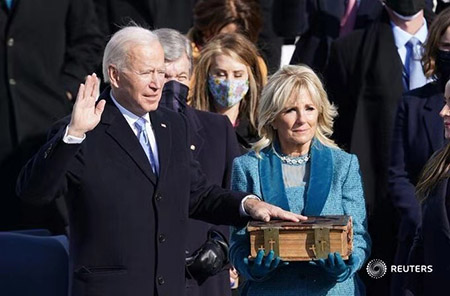 Former US presidents Barack Obama and Michelle Obama, Bill Clinton and Hillary Clinton, George W. Bush and his wife Laura, and outgoing Vice President Mike, Michel Pence and his wife also attended the ceremony.
Republican leader Mitch McConnell, Republican Senator Kevin McCarthy, Speaker of the United States House of Representatives Nancy Pelosi and Democratic Senator Chuck Schumer will all attend a Catholic Service with Biden at St. Matthew's Church in downtown Washington at 8 a.m. local time on Jan. 20.
Celebrities including Jennifer Lopez, Lady Gaga, Tom Hanks, Garth Brooks, Demi Lovato and Justin Timberlake were invited to perform at Biden's inauguration. "I am honored to join the Biden Inaugural Committee to sing the National Anthem and celebrate Biden and Harris on January 20, " Lady Gaga said on social media.